AVer E12 Charging Station
** NEW MODEL ** 12-Device Charging Station for Tablets, Laptops and Chromebooks up to 15.6"
AVer E12 features compact and DIY options, perfect for space-sensitive classrooms. With an easy open door, even the youngest students can easily access educational devices anytime. Independent power adapter spacing provides optimal heat distribution keeping devices at manageable temperatures, and of course, the essential adjustable slot dividers and cable clips provide the flexibility to mix and match devices in storage.
DIY Charging Station
The E12 is a DIY charging station that can be easily assembled within 5 minutes. Thanks to the holes for cables in both sides of the body, you can easily place the E12 anywhere, even against a wall.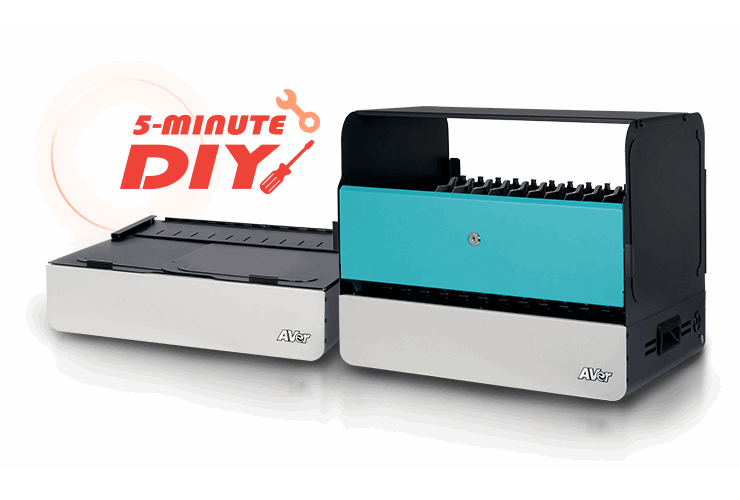 Unprecedented Space Conscious Design
Over-sized equipment is unfriendly for space limited K-12 classrooms, and the E12's small footprint design provides a space-conscious solution without compromise. Classroom space can also be used more freely with fewer trip hazards thanks to this all-new design.
Effortless Charging
Without any programming or monitoring, devices are simultaneously charged safely using AVer's advanced in-house charging technology.
Smart Cable Management
Adjustable dividers provide flexible spaces for all sizes. Just tap the clips to lock power cables in place, preventing knots and enabling excellent cable management. Create a pleasing classroom environment while effortlessly ensuring safety with the E12's all-new design.
Stays Cool Under Pressure
Ventilation holes allow natural airflow during charging, meaning classes can leave their devices on charge worry-free.
Unprecedented 10-Year Mechanical/5-Year Electrical Warranty!