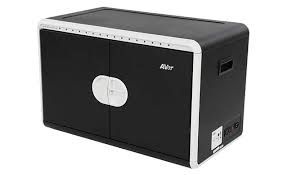 Aver L16u: 16 Bay Charge Cabinet
NO LONGER AVAILABLE
16 bays, tablets charge & sync cabinet
The L16u is a cleverly designed charge cabinet that can accommodate 16 iPads and/or Android tablets, with an added capability to sync connected devices simultaneously. L16u includes friendly features such as individual LED indicators which let you instantaneously monitor charging and syncing status of each device, while USB ports are conveniently located on the front of the cabinet for easy, quick cabling and setup. Also, rest assured that your tablets are safely stored in the cabinet thanks to L16u's sturdy steel construction and three-point locking mechanism.
Compact and stackable
It is compact and can simultaneously charge up to 16 iPads and/or Android tablets with full 2.1A DC charging power provided to all connected devices, making it an essential tool for any tablet learning classroom. And the stackable design of L16u adds more classroom space and reduces clutter.
Sync in seconds
Syncing and managing multiple devices is much easier with L16u's sync function. The L16u works with Apple configurator and other syncing software, allowing you to quickly add, remove or modify apps, files and user profiles at the same time on all connected devices.
*number of devices that can be synced simultaneously determined by devices' software
Real-time status check
Located conveniently on the front of the cabinet, individual LED lights which correspond with each charging bay let teachers and students know right away whether any one particular tablet is fully charged, still charging or if synchronization is in progress, all without ever having to open the doors.
Daisy-chain feature
The L16u can be daisy-chained up to 2 charging cabinets, allowing you to easily boost charging capacity to 32 iPads and/or Android tablets and safely charge your devices through a single outlet without overloading circuit.
Customizable storage slots
The 28mm-wide, 364mm-deep customizable charging slots are designed to accommodate a wide variety of tablets with or without protective case. Storage slots are easy to adjust simply by removing the partitions, offering you greater flexibility when storing large items.