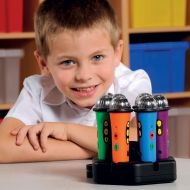 Set of 6 Rainbow Easi-Speaks with Docking Station
Records directly into MP3 format with up to 4 hours recording time. Audacity Music Editing Software is provided.
Record intergalactic adventure stories, conduct an interview with an astronomer or hold a discussion on a suspected UFO sighting on these bright and colourful rainbow Easi-Speaks. Why not use the six individual colours to record different parts of a space story, mix up then challenge your students to put the story back into the right order. Perfect for assessing pupil progress in all areas of learning, ideal for supporting EAL learners and great for encouraging reluctant speakers and readers. These MP3 Recorders are great for building confidence in reluctant talkers and enable settings to add some vibrant colours to their recordings, observations and assessments. Attractively designed as a microphone and available as a colourful set of 6, they enable young children to communicate without being attached to a PC. Easi-Speaks allow children to record and playback remotely or alternatively, files can be downloaded straight to a PC using the inbuilt USB connector. A fun, versatile resource, the Rainbow Easi-Speak will support many areas of the curriculum and can be used for anything from role-play activities to outdoor exploration. They can also be fully charged through the docking station. With a capacity of 4 hours high-quality sound, Easi-Speak lets you record and playback remotely or download your files using the built-in 128MB memory straight to your PC through the attached USB connector.
The Easi-Speaks are fully rechargeable through the docking station which means they can now be charged from the mains rather than your computer - no need for numerous PCs and messy trailing wires to USB hubs.