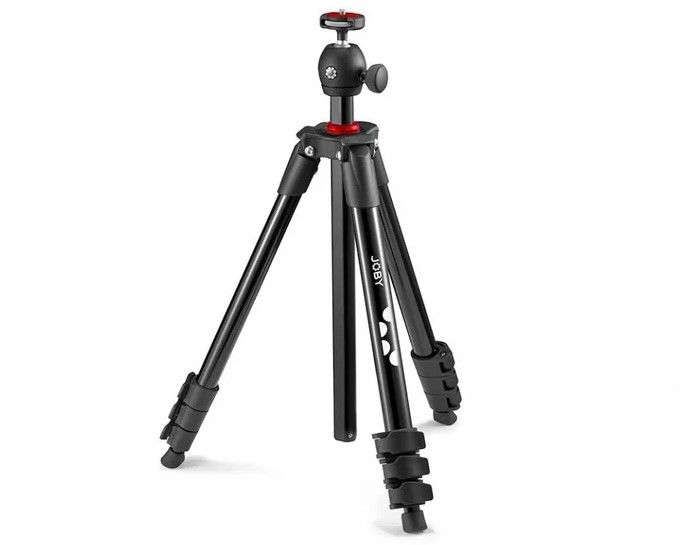 Joby Lightweight Still Camera Tripod
A perfect accessory for your Swivl Robot!
Full Size Tripod with JOBY DNA
Simple locking 1/4-20'' wheel mount
Supplied with vlogging phone mount
Lever Leg Locks on Tripod base
Supports up to 1.5kg
The JOBY Compact Light Kit packs a powerful creative punch in a full sized tripod kit. Featuring the classic JOBY DNA, touch points have been refined to give a fun yet functional vibe and of course, it pairs perfectly with other products in the JOBY family.
With a simple ¼-20" wheel locking mount, there is a zero faff approach to mounting your camera or any other bit of hardware up with 1.5kg onto the clever integrated ballhead.
This kit is also supplied with a unique phone clamp, which features cold shoe mounts on both ends. With that sort of radness you get to add a light at one end and a mic at the other. Let the Vlogging commence.
The phone bracket also rotates within the mount, so you can swap from landscape b-roll to portrait dance-off in a matter of seconds.
The tidy tripod also features tried and tested level leg locks, what more could you want?
Specifications:
Weight: 0.87 kg
Top Attachment: 1/4''
Attachment Type: 1/4"-20 standard tripod mount
Material: Aluminium, Rubber, Steel, Plastic
Dimensions: 8.7 x 8.7 x 39.8 cm
Extended Dimensions: 89.5 x 89.5 x 131 cm
Colour: Black
Head Type: Ball Head
Safety Payload Uni/Pdr 105:2021: 1.5 kg
Pan Drag: NONE
Panoramic Rotation: 360 °
Plate Type: fixed - with 1/4″ screw
Quick Release: No
Safety Payload Weight: 1.5 kg
Lateral Tilt: -90° / +90°
Tilt Drag: NONE
Leg Type: Single
Leg Sections: 4
Main Color: Black
Maximum Working Temperature: 60 °C
Minimum Working Temperature: -30 °C
Product Contents: Tripod, Phone Mount, Carrying Bag