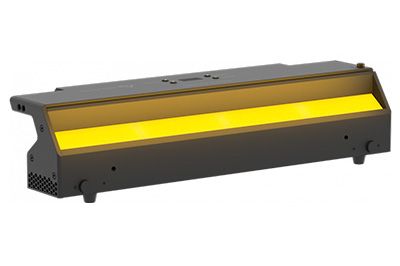 EclCyclorama 050
170W linear soft CYC and flood light with RGB + Warm White colour mixing
EclCyclorama 050 is a soft-edge, linear cyclorama and floodlight, designed in a surprisingly low profile form factor to meet applications at both front and end of the stage, offering an unprecedented level of brightness in its category. The fixture is equipped with a custom and calibrated RGB + Warm White LED source, which is capable to deliver a linear and high-quality white reproduction of the entire spectrum with high CRI, TLCI and TM30 performances.
The Optical system has been designed to offer a very wide asymmetric beam angle, and is capable of a superior lumen efficiency, making the EclCyclorama range a very flexible solution, suitable for both applications where fixtures are connected to each other or separated by a considerable distance, without worrying of dark-edge or uniformity gaps. The fixture is extremely user-friendly and offers a multitude of control possibilities: DMX, RDM, Artnet, sACN and Wireless DMX.
Features:
RGB + Warm White colour systems allows high quality of whites (CRI 93 @3.200 K) and bright colours.
Slim design, with only 12 cm height for easy implementation in the front or at the back of the stage.
Wide Asymmetric beam angle to allow flexible installation at modular distances between fixtures
Hardware designed with tilt angle adjustment, beam control and flexible hanging and ground stacking applications.
Contact us for up to date pricing